Doctor Who: The Cold War
What an odd little romp that was. So let me get this straight–it's 1983, the Russians are floating about under the sea endlessly practicing nuclear missile tests and slicing Ice Warriors (that they insist are Mammoths, despite the visual evidence to the contrary) out of the Arctic. Into this the Doctor and Clara pop out thinking they're hitting Las Vegas?
The Doctor: There are flashpoints and this is one of them. Hair, shoulder pads, nukes – it's the 80s, everything's bigger.
Poor Davos Seaworth. He was once in command of the entirety of Stannis Baratheon's fleet in Westeros. One little defeat at the Battle of Blackwater, and he's found himself busted down back to the USSR, captaining a nuclear sub, under the name Commander Zhukov. Worse, this sub is filled with complete nutcases. One, a Lieutenant Stepashin, is running around demanding they blow the Americans to hell because he's young, bored and has mistaken himself for a "warrior." Another thinks releasing an Ice Warrior from his frozen tomb right there on the sub is a delightful form of entertainment–we never learn his name because he dies quickly. Then there's that scientist dude, Grisenko, with his contraband walkman, singing British Electropop. He must be the maddest of all. It enough to make those who follow the Red God seem sane!
Professor Grisenko:  Am I interrupting something?
Captain Zhukov:  We were about to blow up the world, professor.
One very important lesson we did learn this week is that someone has been trying to warn us about the Ice Warriors for years. That man was one Theodor Geisel.
Stepashin:  What's the alternative?  It's a little green man from Mars?
Grisenko:  Correction.  It's a big green man from Mars.
Seen those green hands descending from the ceiling before? Feel like that pointed headed green face was familiar? The Doctor swore he'd never seen an Ice Warrior out of his suit before, but I recognized him right away.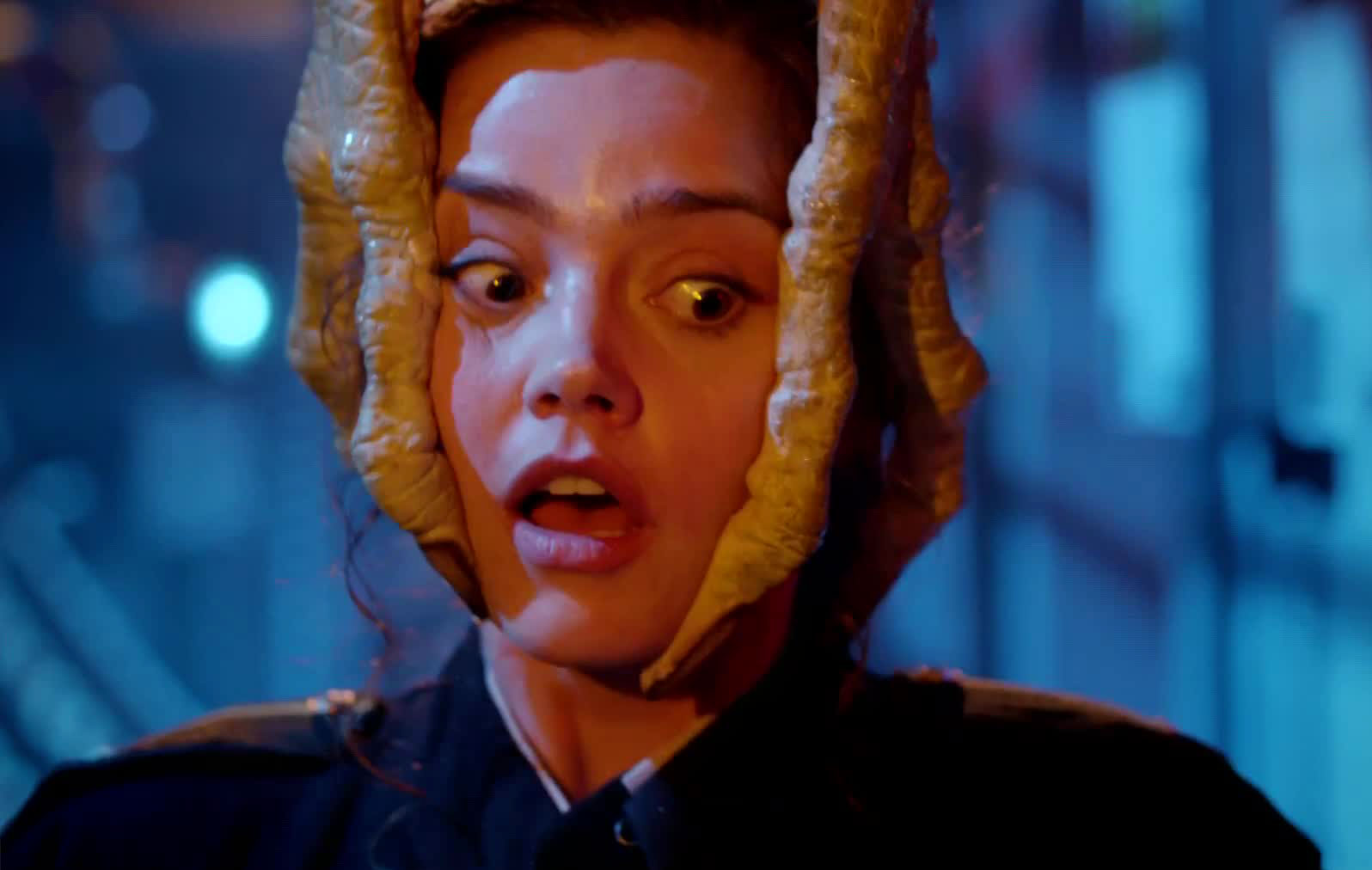 Yes, that Ice Warrior is in fact that same scoundrel who attempts to steal Christmas every year, the Grinch. Of course, in this episode, he's attempting to steal billions of lives and destroy the earth, not just bring an end to Christmas, but considering he got out of the wrong side of bed after being frozen for 5000 years, can you really blame him?
The Doctor: 5000 years, that's a hell of a nap!
One thing I could help but note was this is the first time in a while the Doctor has not landed precisely where he means to. Only last week he wasn't just pinpointing exactly where he wants to go, but getting there exactly when he wanted. I was starting to feel like River's TARDIS flying instructions were taking effect. Good to know that Idris still has a mind of her own, and not only will drop them off in the middle of a crisis, she'll then leave.
The Doctor: "Harm one of us and you harm us all, " that's the ancient Martian code.
So Grand Marshal Skaldak–Sovereign of the Olympian Caste, Vanquisher of the Phobos Heresy, Fleet Commander of the Nix Tharsis–has woken up and is determined to steal a couple of nukes (once he dismembers the crew) and blow the planet to hell, because he feels like his people are dead and gone. This seems an extreme reaction to waking up, but admittedly he did not look much like a morning person. It did give the show a good crack at doing an "Alien" style horror flick, with the unseen threat snatching lives away when others backs are turned. There was even some horror with dismembered bodies–though this being the BBC, they stayed politely off screen with only Clara's horrified reaction to the carnage for us to go on.
Grisenko:  I always sing a song.
Clara:  What?
Grisenko:  To keep my spirits up.
Clara:  Yeah, that would work…if this was "Pinocchio."
Grisenko:  Do you know "Hungry Like The Wolf"?
Ah, yes, let's talk about our companion, who spends a good five minutes being completely floored by the idea she is speaking and understanding Russian via the TARDIS, but doesn't think twice about walking into a room and negotiating with a very angry alien who has been chained to a submarine wall. Were we supposed to read deeply into her inability to think of things she likes to do when Grisenko was trying to calm her panic and comfort her? Or was that supposed to be a genuine inability to think in a moment of crisis? Either way, do we think she should have told him Ultravox would in fact be breaking up in about another five years?
Skaldak:  My world is dead, but now there will be a second red planet.  Red with the blood of humanity!
Of course, in the end it was all nothing to worry about. Skaldak's people aren't all gone, they were just stuck in space traffic. The insane Russians are all offed so we can stop worrying about them setting off missiles. Ultravox gets back together in the 1990s when they discover they didn't invest wisely and need to make more cash to support their standards of living. Oh, and the TARDIS turns back up–at the South Pole. The only question that remains–does Davos give them a lift across the bottom of the ocean or not?